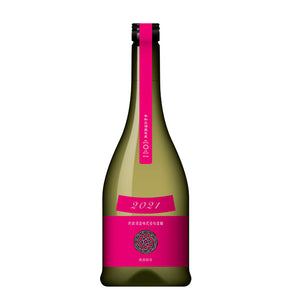 All namazake will be delivered from Hong Kong, and the delivery time will take about 2-3 working days. If there are other sake products in the same order except namazake, the sakes will be delivered separately (it will take about 7-10 working days for sakes shipped from Japan).
The most popular item of the Aramasa ''Colors'' series, "Cosmos" is an innovative sake reminiscent of wine.
"Colors" is a sake series of made by sake rice from Akita prefecture, brewed by one-time pasteurization and aged in wooden barrels, drinkers can understand more about the uniqueness of Akita sake rice. "Cosmos" has a gorgeous and beautiful label, just as gorgeour as the liqour inside the bottle. The fruity aroma is clear, and it turns into a wonderful sweetness and a slight sourness down the throat.
Product information
How to drink
Customer reviews
| | |
| --- | --- |
| Record of Awards | - |
| Sake Texture | Junmai/ Special Junmai |
| Ingredients | Kairyo Shinko |
| Rice Polishing Ratio | Koji 55% Sake rice 60% |
| Alcohol Percentage | 13% |
| Sake meter value | - |
| Acidity | - |
| With/ without a carton | No box |
The perfect temperature to drink
The perfect temperature to drink
Taste Classification
Taste Classification
Food Pairing:Umami Food
Food Pairing:Umami Food
Good examples of food pairings are Clams steamed in sake, Chinese steamed seafood, Salt-baked chicken and Thai raw shrimp, etc.
Area:tohoku (Pref. Akita )
Area:tohoku (Pref. Akita )