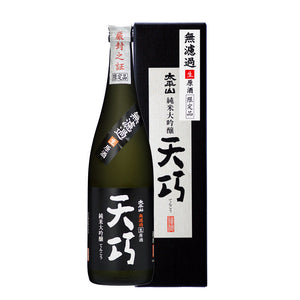 All namazake will be delivered from Hong Kong, and the delivery time will take about 2-3 working days. If there are other sake products in the same order except namazake, the sakes will be delivered separately (it will take about 7-10 working days for sakes shipped from Japan).
The representative product of Taiheizan, unfiltered namazake (raw sake) full of strong umami.
The quantity limited special namazake allows you to enjoy the strong taste of Yamada Nishiki sake rice. The aroma of several kinds of fruit are condensed and spreads from the cup, exuding mellow sweetness in the mouth. Thick and full-bodied with strong umami, expressing you a classic namazake. The mellow acidity balances the overall mouthfeel, the aftertaste is solid, and the umami is prominent.
Product information
How to drink
Customer reviews
| | |
| --- | --- |
| Record of Awards | - |
| Sake Texture | Junmai-daiginjo |
| Ingredients | yamadanishiki |
| Rice Polishing Ratio | 40% |
| Alcohol Percentage | 17% |
| Sake meter value | - |
| Acidity | - |
| With/ without a carton | paper box |
The perfect temperature to drink
The perfect temperature to drink
Taste Classification
Taste Classification
Food Pairing:Heavy Food
Food Pairing:Heavy Food
Good examples of food pairings are Japanese Teriyaki and dishes with Cantonese black bean sauce, etc.
Area:tohoku (Pref. Akita )
Area:tohoku (Pref. Akita )